In the spring of 2019, when I first wrote this post, I had just booked a trip to Prague, Bratislava, Lviv, and Kiev.
Of course, this meant I had some new languages to learn (Czech, Slovak, and Ukrainian) and one language I needed to revive from very dormant slumber (Russian).
As soon as I started making these travel plans, I knew what my first step was going to be, and it was the first thing I did after clicking "purchase" on those plane tickets.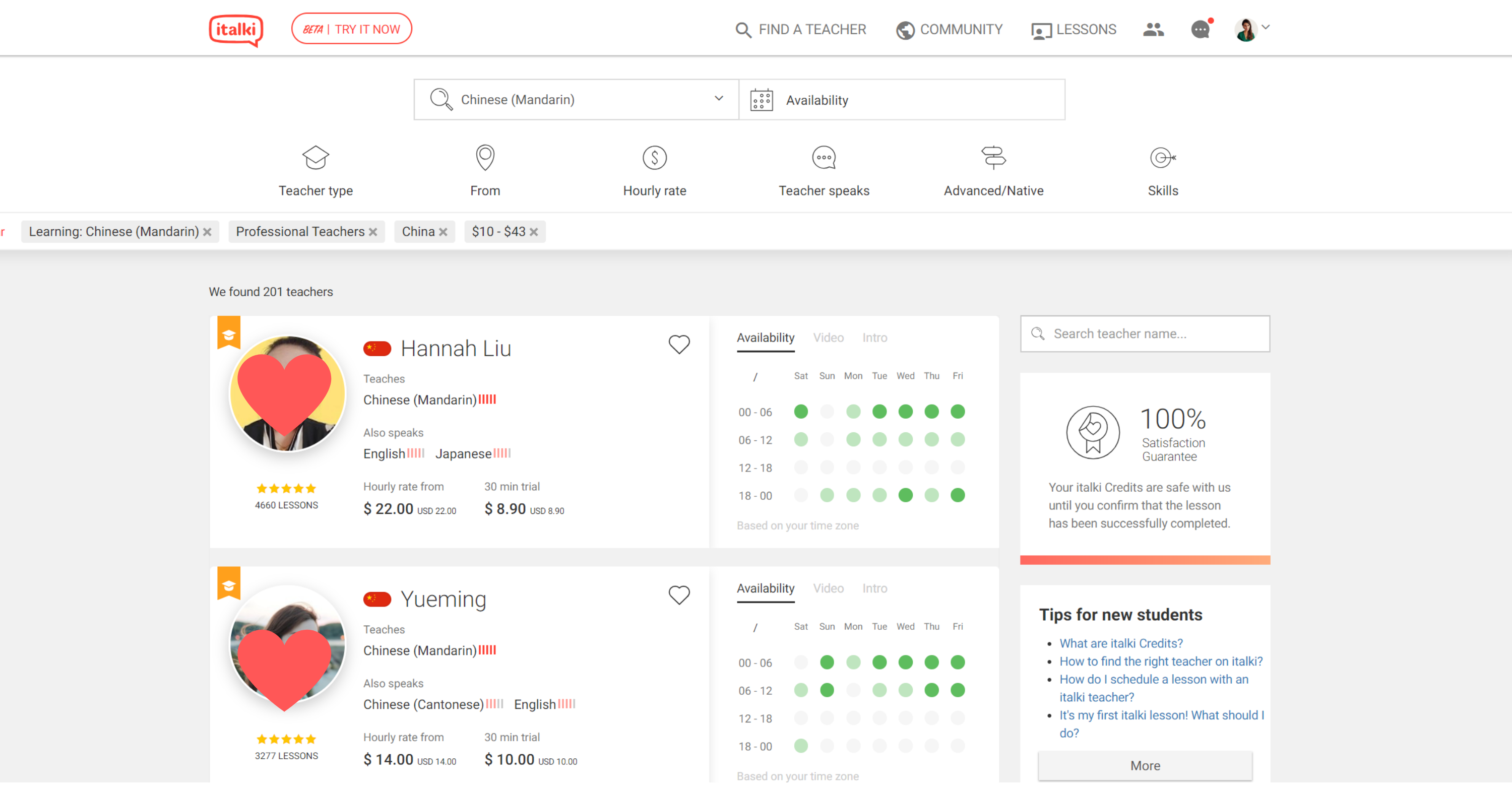 It is now two years later, and I'm glad to see that this post is still helping language learners get started on italki. In the meantime, I've taken several hundred more italki lessons, and I've continued to update this post as the italki platform evolves!
Are you a total beginner to language learning?
Even if you've never learned a foreign language as an adult, don't be intimidated by the long blog post below! italki is actually ideal for total beginners because their teachers can help design effective lesson plans, and their platform helps streamline scheduling and accountability.
What is italki?
italki is an online platform (accessible in browser or app) that helps you search for the perfect tutor in nearly any language, and to organize and schedule your lessons.
When searching for your tutor, you can filter for experience/training, timezone, other languages spoken, native language, or many other parameters.
I'm an evangelist for italki mainly because their team has put so much work into recruiting and onboarding seriously effective tutors in a wide range of languages. I've used italki to find tutors in Vietnamese, Mongolian, and British Sign Language…and they were just as high-calibre as the tutors for Mandarin and Spanish.
Truly impressive!
Once you book the lesson, you will meet your tutor at the scheduled time via your preferred platform (e.g. Zoom, Skype, WeChat, or italki's own platform). I prefer Zoom.
.
How To Use italki to Book Online Tutors
I've been using italki for over five years now, to study over 10 different languages. It has never failed to get me the fastest and most effective progress out of any other method I use (and I use a lot of methods!)
Here is why it is my favorite platform.
.
It lets you filter for a variety of preferences.
Not only does italki help you find the tutors, the platform is designed to ensure that your lessons go smoothly, by removing several barriers and frictions, and creating incentives for performance.
For example, italki automatically calculates timezone differences between you and your tutor, and sends reminders to both of you, in order to minimize no-shows.
It keeps both students and teachers accountable
After each lesson, the teacher and student also review each other (don't worry, people are very kind on italki!) This creates added incentive for both teacher and student to show up on time and give it their all.
My pet peeve with tutors that aren't on italki is that they'll often slack off over time when they get comfortable, showing up late or unprepared, and trying to wing it (and um yeah…I guess we students do that too).
Why I tell all my friends to use italki
Do I sound like a convert? I am. Am I promoting italki for self-serving reasons?
Well, my friends can attest that long before I started this blog I was writing novel-length e-mails to anyone I knew starting a new language, about how to use italki.
Full-disclosure, now that I do have this blog, I'm including affiliate links. So if you do sign up through a link on my site, while the cost is the same for you, I get a small commission.
But let's be honest, I'm just going to turn around and spend that money on italki anyway, most likely.
Anyway, over 300 lessons later, I have figured out how to get the most out of italki: how to filter for the teachers that best meet my needs, how to approach online lessons, and how to set clear and attainable goals.
Here are my eight steps to using italki strategically.
Step 1: Figure out exactly what you need from your online tutor.
Are you a total beginner, or stuck at intermediate stage?
Do you have a concrete goal (to prepare for a trip, to converse with your mother-in-law, or to navigate a business meeting?)
Or are you just learning for fun?
Figure out what you want to get out of these lessons, and let the teacher know BEFORE your first lesson (send him or her a message through the italki platform).
This gives your teacher the chance to prepare a lesson plan and some ideas before you first meet.
Step 2: Choose a Community or Professional Tutor
If you want to practice conversation, maintain a language you don't want to forget, or if you want to guide the lesson yourself (for example, maybe you have a memo you need to understand for work, or a Korean drama you're struggling to understand) then choose a community tutor.
Community tutors are cheaper, because they're not expected to prepare a lesson plan. They're just a fluent speaker willing to chat with you and follow your lead.
I use a Community Tutor every once in awhile just to check in on my French, to make sure I'm not forgetting it – I chat with my tutor about travel and about current events.
I also use Community Tutors if I want to work on something specific: for example if I'm having trouble understanding a Korean website when I buying something online, or if I want to prepare for an interview in Spanish.
If you need your teacher to be responsible for the lesson plan, to give you guidance on grammar, or to help with test-prep, then choose a Professional Tutor.
Whenever I start a new language, I use a professional tutor. I also use professional tutors when I need to work on something particularly tricky, for example, I recently met with a professional tutor to work only on the pronunciation of Korean consonants for half an hour.
Step 3: Choose a Native or Non-Native Tutor
I almost always work with native tutors, however non-native tutors can be a useful supplement to your studies, especially if you are sure they have strong abilities in the language in question.
I sometimes meet with non-native tutors just to hear what worked and didn't work for them on their path to fluency, and to ask them what epiphanies helped them master tricky concepts.
When I was studying Indonesian, I met with a young American tutor who had mastered Indonesian during his time there as a missionary. He was able to warn me about certain pronunciation mistakes Americans tend to make that hold them back in the beginning, as well as some grammatical concepts that are often taught in a confusing manner.
Step 4: Filter Your Tutor Search
While italki has a lot of great data on their language teachers, they unfortunately don't let you filter for ALL those parameters. However, you can do an initial filter on some important parameters, and then just scan the results for others.
Other languages spoken: I actually like to use this filter to find tutors that speak at least one other foreign language, because it means that in addition to their teaching experience, they've been a language student too.
When I was recently searching for a Mandarin tutor and needed a way to narrow down the results, I decided to filter for tutors that also spoke French. I chose French randomly, just as a way to find tutors that spoke languages other than Mandarin and English.
Availability: Unfortunately this tool doesn't seem to work very well on italki, so don't get frustrated if this filter doesn't actually yield the results you were looking for. I really wish it worked well. You can sort for availability within certain slots throughout the day, but you can't search for time availabilities within specific days or even weeks.
Skills: Here is where you can choose a teacher with specific skills in test preparation, or working with children, for example.
Step 5: Scan Those Results for # of Lessons Taught
After all my other filters are set, I scan the results by eye to see who has taught the most lessons.
You cannot order your results by this parameter, and I understand why italki does this (because then students would only ever work with the tutors with the most lessons taught, and newbie tutors would end up on the last page forever without any hope of moving up the ranks).
However, from the student perspective, I still almost always try to go for one of the tutors with the most lessons taught (if I can manage to snag an open slot!)
These tutors have done their "flight hours" so to speak, so they are more likely to have a wide breadth of teaching experience and the corresponding resources, and they obviously have many students who keep going back to them, because they're good.
Step 6: Give Your Teacher a Heads Up
Once you have booked your lesson, don't forget to send the teacher a message and let him or her know:
What languages you already speak
Your current ability and challenges in your target language
Your goals for your target language
How often you plan to take lessons and/or up to which date
Your interests, in case the teacher can use them to design lessons that are more interesting and relevant to you.
Some people use the first lesson to discuss these items, however I think this really puts the teacher on the spot and robs them of their chance to really wow you with an attractive lesson plan. So I always message them before the first lesson and try to give them enough time to prepare.
Step 7: Prepare For Your Lesson
About 5 minutes before the italki lesson (not right as the lesson is starting) I make sure I have my headphones set up, that I'm in an appropriate location without too much noise and with a strong internet connection, and that I've opened up any materials the teacher sent to me, so that the first five minutes of the lesson aren't spent fumbling to get ready.
If it isn't your first lesson, make sure you at least glance at the materials from your previous lesson – put that material right in your short-term memory so that you are ready to use it.
Once I've found a teacher or teachers that I like, I usually set a reminder in my calendar for every Friday afternoon, to book the following week's lessons.
That's the timing that works best for me. I'm not usually able to plan further ahead than that, but it is also important to book lessons as far in advance as you can, so that they become a priority for you and not an expendable task that gets put off indefinitely.
That's it for now, I hope this helps you get the most out of your online language lessons! If you're new to italki, go ahead and get signed up here.
Have you tried out any of these steps? How did they work out for you? Do you have any other recommendations for how to get the most out of italki? Please let us know in the comments!